Specifically: Image Communication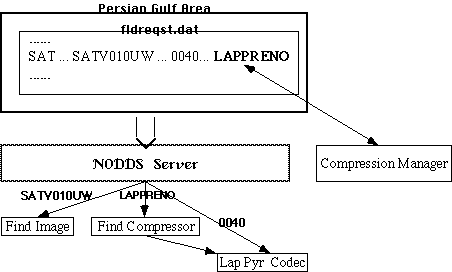 SAT request

941K011XXX A59 57.000N 107.500W 000 023 033 02.5 002.5OM
941K016XXX SIE 0    1 9999 9999 105050000 0040 0000 0000 0000000LAPPSKEW
0411012XXX SAT 0  IDIDIDIDIDID   05050000 0040 0000 0000 0000000LAPPRENO

- compression parameters wedged in;

- one can specify a few different methods;

- default specs can be changed by the compression manager.
Compression is done at the request time, using TIFF/MTIF/XWD/PGM files from flat/TEDS databases
Decompression is done when unpacking packed.dat, into PGM
Compressed code is communicated in binary (following a standard OTH ASCII header)
Compression is performed by a plug-in. If it fails, the entire stderr is sent as a trouble report to the client.
Next